Europe's connected Life Sciences & Health Metropolis
'Working together is part of the Dutch DNA. By collaborating with the best, we can identify innovative solutions that matter.' – Hans Schikan.
The Dutch medical and biotech companies, start-ups, research institutes and academic medical centers are bursting with ground-breaking research and new ideas. Ideas that lead to new alliances and resourceful ways to improve healthcare and life sciences. For everyone, everywhere. The Dutch public-private partnerships receive worldwide acclaim, which gives the Netherlands a leading position in oncology, cardio-vascular research, immunology, regenerative medicine, neuroscience, vaccine development, cohort studies and biobanks. Furthermore, we are the front-runner in mobile healthcare. Our culture of collaboration is supported by a robust matrix of physical and digital infrastructures.
To provide focus and direction for social, scientific, and business innovation processes the Ministry of VWS have formulated five missions for the societal theme Health & Care. Health & Care is one of the major societal themes within the government's Mission-driven Top Sectors and Innovation Policy, coordinated by the Ministry of Economic Affairs and Climate Policy. Citizens, healthcare professionals, companies, and scientists, connect, collaborate, and co-create solutions so that by 2040 all Dutch citizens will enjoy five more years of healthy life. In doing so, the aim is to reduce the socio-economic health differences by 30%. There are four underlying missions that contribute to this central mission through changes to lifestyle and living environment, offering more care in the right place and better perspectives for people with chronic diseases, lifelong disabilities and dementia.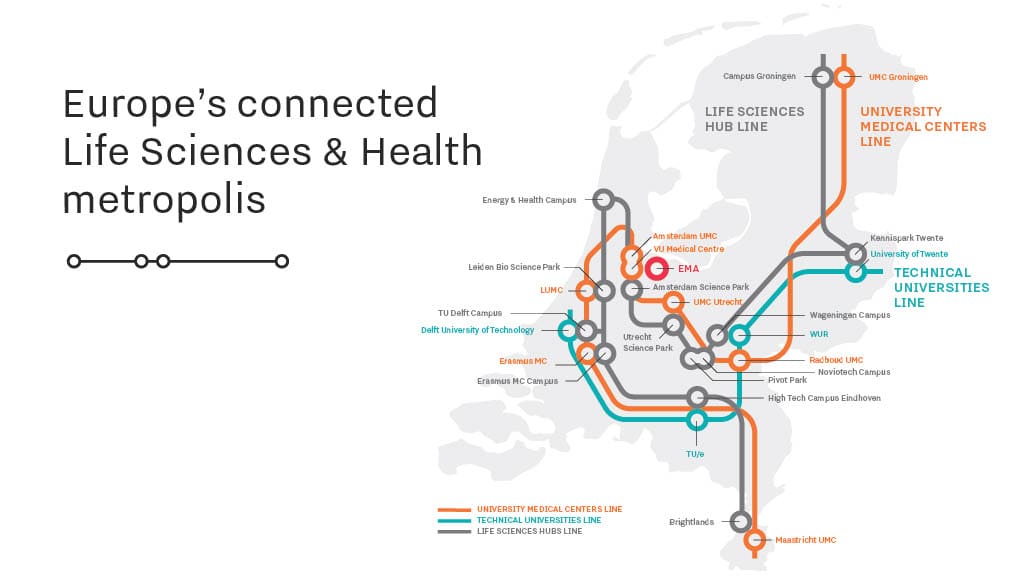 The health and care activities in the Netherlands' Mission- driven Top Sectors and Innovation Policy are not separate from challenges in the rest of the world. As implied by the Health~Holland vision "shared challenges, smart solutions", the Netherlands has much to offer, but can also learn a great deal from other countries. Together we can improve the health of our citizens and seize the economic opportunities. So, let's join forces in our journey towards vital functioning citizens in a healthy economy.